Please note: all prices listed reflect a cash discount. I happily accept Venmo and PayPal payments, but the cost will be slightly higher than the prices listed here. Paying a minimum deposit for a program through Venmo or PayPal will not change the cost. All private sessions are held at the Diamond K9 Dog Training Center at 432 Elm Street, Suite E in Biddeford (open by appointment only).
Evaluation
I offer free phone consultations to help you decide how you should proceed with your dog. To set this up, fill out the contact form or send me a text message. In some cases, an in person evaluation may be best. If you'd like to set up an in-person consultation at the training center in Biddeford there is a $100 fee. If you confirm an enrollment into any of my training programs within 3 months of our consultation, I will deduct this $100 off from the cost of the program.
Board & Train Options To Suit Your Needs!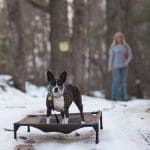 I offer training in a board and train format. These programs are ideal for people who want to save themselves some tedious repetition by having me do all the initial training and patterning for them. Then we have an in-depth private go home session which ALL HANDLERS IN THE HOME MUST ATTEND. Your dog will get time to rehearse new skills and behaviors consistently for a period of time before going home, so you don't have to build everything from scratch—you just need to keep it going! There will still be a time commitment on your end when your dog returns home, but the hardest part is out of the way. Now it's time to practice what everybody has learned with my support and guidance. During your free consultation, we can discuss if a board and train program is a good fit for you at this time. Fill out the contact form now to get started!
Blueprint Package
7-10 day Board and Train
Do you feel overwhelmed by where to start training? Do you read a lot of conflicting information online about what you should be doing and how to do it? Does your new puppy have many accidents in the house, mouth or nip a lot, jump and pull on the leash? Or maybe they just don't seem to connect the dots sometimes? If you want to get clear answers to your questions, reduce chaos, lay a great foundation, learn how to increase and decrease behaviors, and get ongoing support and guidance, this is a great program for you!We will teach your puppy "sit", "down", "place", "come", and polite leash walking. We work on calmness in the crate, structure, potty habits, and begin building impulse control. It is important to understand that your puppy will need practice and consistency when they return home. As with all programs, there will be a time commitment on your end to maintain and strengthen behaviors and build engagement with YOU. Minor behavioral issues are addressed in this program, and I'll show you how to address them at home.I will provide you with 7-10 days of boarding and training for your dog, one in-depth private session with you and your puppy, a prong collar or slip lead (depending on the dog), a raised cot, and continued phone and e-mail support as needed for a full year following the training! This is a tremendous value for any new puppy owner!

The Blueprint program is generally for puppies 3-5 months old. It is not something I typically offer for dogs 6 months or older because it is designed for the young puppy with a short attention span and very little in the way of previously learned experiences. After about 6 months of age, most dogs are capable of much more, and so I recommend a more advanced program geared for the long term. This is an ON LEASH program. However, it is a fantastic foundation on which to build off leash reliability later, and I do offer $50 off from the more advanced Goal Digger board and train for anybody who has completed the Blueprint program.

Price
$847 (includes 1 session w/owner)
Goal Digger Package
2 week Board and Train
This is our number one program for anybody who just wants to get more reliability and engagement from their dog. This program is focused mainly on commands, off leash reliability, and eliminating minor behavioral issues. Do you wish your dog would listen, even around distractions? Come back when called? Stop pulling on the leash?Imagine a dog that lies on their bed when guests arrive, and stays there! What will it be like to take your dog out to the park, and when you call them, they immediately return to you? Imagine those few nagging behavioral issues were a thing of the past! Fix common problems like minor reactivity, jumping, counter-surfing, playing keep-away, bad leash manners, etc. while also getting compliance with obedience commands.Your dog can learn these skills! It is important to understand that your dog will need practice and consistency when they return home. As with all programs, there will be a commitment on your end. When your dog goes home. You will receive an in-depth go home session where you will learn everything you need to know about how to maintain and build on their new skills. The day your dog goes home you will begin building a new relationship with them. Everyone in the home who handles the dog must be present for this session. You'll also get a follow-up session 2-4 weeks later, continued support for up to a year to ensure long-term success, and free admittance to our drop in group classes for as long as they are offered!

This program gives you an outstanding combination of training, tools, and support. A prong collar, e-collar, long line, and raised cot ($320 value) are required for this program and are all provided for you! Your dog gets two weeks of boarding and one-on-one attention, including 1-2 hours of active training daily combined with hours of passive training (duration work, calmness in crate, state of mind work), plus field trips ($1400 value). You also get 2 private sessions ($300 value), continued support when needed via phone or e-mail for a full year ($1000 value) after your dog returns home, and admittance to drop in group classes for the life of your dog ($300 value)! It is important to me that my clients are successful. That's why I provide you with the best tools on the market and lots of additional support valued at over $3,000 for only $1,797. You will not find a better value for top-notch training.

The two-week board and train program is intended for dogs with minimal behavioral issues. It is a basic, off-leash obedience program. A three or four week board and train is more appropriate for dogs presenting with severe anxiety, severe reactivity, any type of aggression or guarding, or extreme over arousal as it allows more time to pattern behaviors and disassociation from triggers before the dog returns home. No dog will ever be perfect, but my goal with a board and train program is to get the dog into a space where they are reliable and manageable enough for me to be able to pass the baton to the owners with ease. You need to be able to pick up and take over where I leave off in order for a board and train to be successful. Additional weeks are priced at $700 each, and your dog's needs will be assessed during our phone consultation.

Price
$1797 (includes at least 2 sessions with owner)
Relationship Rescue!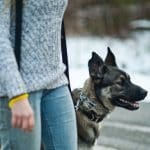 So, you got a dog. Things started out well enough, but maybe he's developed some issues of concern. Over time, these things can escalate and become a real source of stress for the whole family. Things like severe reactivity, territorial behavior, fear aggression, and resource guarding can lead to a smaller life for the dog and the humans. This is the most common program for any dog with a bite history or a high probability of developing one if there is no intervention.
Teaching obedience does not eliminate unwanted behaviors, and for that reason, obedience is not our focus in this program, rather it is secondary. If you would like to resolve severe behavioral issues, this program is for you to learn how to disagree with and eliminate behaviors, teach your dog other things to do in place of those old behaviors, and address seemingly small moments that actually have a big impact on how your dog navigates through the world. It would be nice if we could just spend a couple sessions teaching the dog to sit in trigger scenarios or issuing properly timed treats, but in reality that's not how these things usually work. To truly be effective, we need to realize these things won't improve by just carving out time for training "sessions" daily or weekly. Most likely, you will learn a whole new way to live with your dog and build a new relationship. That's how you create real change. And that is what sets this program apart from others in the market. Other places tend to be very command centric, leaving the core problems unaddressed.
You will learn how to address problem behaviors directly, how to work on the small moments throughout the day that you might not realize are contributing the problems, how to use structure and accountability to balance your relationship, how to use ecollar to help your dog settle and disengage from triggers. I offer add on sessions that can be purchased after the program if you want to continue to develop the obedience aspect to a higher level of reliability. If you want to get your situation under control and be able to live your life again, worry less, and trust your dog more, contact me today!
5 sessions focusing on your dog's specific issues. A typical program will look something like this:

Session 1: How You Live With Your Dog & E-collar Conditioning
Session 2: Addressing Unwanted Behavior Directly & Small Moments
Session 3: Advancing Pertinent Commands With The E-collar & Assessing Progress With Unwanted Behaviors
Session 4: Proofing Pertinent Commands With The E-collar & Using Low Ecollar To Help Your Dog Disengage/Settle
Session 5: Role Playing Former Triggers, Addressing Any Remaining Opportunities,& Formulating A Long Term Plan

Mini-Educator from E-Collar Technologies
Properly fitted prong collar if needed
Long line(15-30 feet)
Raised cot
Baskerville muzzle if needed
Receive recaps (upon request) of our session via email for reference
Phone/email support in between our sessions If Needed
Continued support for 1 year after the program if needed
Free admittance to drop in group classes forever! (for as long as they are offered)
Composed Canine!
Does your dog look at you like you're speaking a foreign language? You probably are! Is your dog easily overstimulated, and unable to focus or even notice you're there? Does your dog understand what you want, but they only listen under the right conditions? This is very common. This isn't necessarily your dog being "stubborn"! This program is geared mainly toward teaching obedience to a highly reliable level. I show you how to teach your dog what you want, and also that they should listen regardless of distractions! This program is designed to achieve a broad range of general obedience to a high level of reliability. We use a high quality e-collar to add a new layer of communication with your dog. This really helps them understand our language by gently highlighting the COMMAND and the BEHAVIOR. Then, in the second phase of training, I show you how to begin holding your dog accountable for the behaviors we have taught them. Before the end of the program we can spend one session in a public location to work out in the real world around real challenges. This leads to a better life for your dog and a relationship that is almost always dramatically improved.
This package includes five sessions plus tools to allow us the time to fully develop a variety of obedience behaviors. I will work with your dog and also with you. You just need to practice daily in between each of our sessions. With just a small investment of time each day, you could have a very different dog in just six weeks! Dogs presenting with serious behavioral issues are better suited to the Relationship Rescue option.
If you want your dog to be able to comply with basic commands, walk nicely on a leash, come back when called, and have manners, this is the program for you. Minor behavioral issues can also be addressed in this program. We typically teach 'sit', 'down', 'place', 'come', and 'heel'. 'Out', 'quiet', and crate training are also popular behaviors to teach. Adjustments can be made according to your individual needs. An e-collar, prong collar, raised cot, and long line are usually required for this program and will be provided for you. Don't hesitate! Fill out the contact form today to get started, and finally have the relationship you want with your dog! Please contact me for pricing for multiple dogs. This is an all-inclusive program with many benefits besides just private sessions.
Four private sessions focusing on teaching your dog obedience commands and the language of ecollar
Learn how to use the ecollar to address over arousal (state of mind is everything!)
Mini-Educator from E-Collar Technologies
Properly fitted prong collar if needed
Long line(15-30 feet)
Raised cot
The flexibility with location allows us to meet in the real world and practice around a high level of distraction
Receive recaps of our session via email for reference (upon request)
Phone/email support in between our sessions
Continued support after the program for a full year
Future boarding eligibility—peace of mind knowing your dog is safe, and their training is maintained
Boarding
Dogs that have completed an ecollar training program are potentially eligible for future boarding! Your dog stays in my home each night and their stay includes practicing previously learned skills and daily walks. Premium boarders are given more designated training time. Premium is generally booked by people whose dogs are dealing with serious reactivity, fear, or severe anxiety. *Dogs are approved on an individual basis. Training prerequisites must be met prior to boarding.* See our boarding page for complete details.
| | |
| --- | --- |
| Standard Boarding | $50/nt |
| Premium Boarding | $100/nt |
Free Content
I am passionate about helping people win when it comes to their dog. Whether you just want your dog to learn that "sit" means "sit" or you are struggling with more serious issues, I offer lots of helpful advice and tips to common problems, obedience training, and behavior on several social media platforms, including Diamond K9 on Facebook and @DiamondK9DogTraining on Instagram. You can also find Diamond K9 on YouTube.
These things are offered for free, and I appreciate it immensely when you share my content, enabling me to help more people.